EKO HOTELS & SUITES
EKO Hotels & Suites is a 5-star hotel located in the heart of Victoria Island and shielded from the hustle and bustle of the Lagos metropolis. The hotel offers corporate clients and walk in guests a perfect blend of relaxation, activities, and African tradition delicately infused to meet the highest international standards. Overlooking the Eko Atlantic City and Ocean, it is just a 10-minute drive to the City Centre and only 45 minutes away from the Airport. According to the hotel website, the hotels are designed for your comfort and convenience. Your security is their primary concern and you'll find their customer care second to none.
Conference Rates: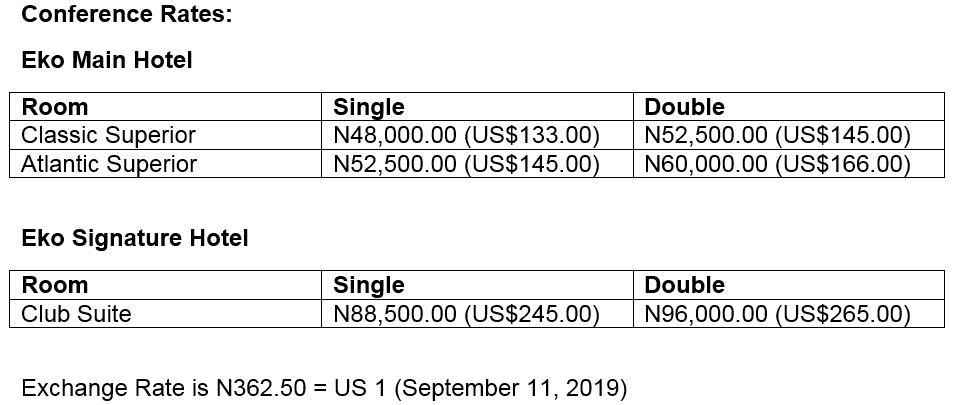 Hotel Website: https://www.ekohotels.com/
AFAM Booking Contact: Please complete the Accommodation Reservation Form and send to Ms. Adewale at
E-mail: reservation@ekohotels.com
Fax: +234 (1) 2704071

GRAN MELIA HOTEL

Gran Melia Hotel is ideally located to cater for the staff and students of the Pan African University/ Lagos Business School. The school is a stone throw away directly opposite. We have designed our facilities to suit the guests from the school with everything from free Wi-Fi access to conference areas where you and your colleagues can continue discussions after lectures. After a day's work, you can choose to use our well-equipped gym, or you can simply relax in our pool bar with a nice cold drink.

Hotel Website: http://www.granmeliahotel.com.ng/
KEY INFORMATION
Check-in time 14:00hrs and check out is 12:00hrs (Earlier check-in is possible based on availability)
Check-out after 13:00hrs attracts an extra fee
No room charge for children under 18 years occupying the same room with parents and existing bedding
Room rates are Inclusive of breakfast, 5%VAT and 5% state tax, shuttle bus service, access to the swimming pool and gym facilities & WIFI
Rates are subject to change without any notice.
Because rooms are limited, reservations will be on a first-come, first-served basis
AFAM Booking Contact: Send the completed form to: gmeliahotel@gmail.com

NOTE: Below are Hotel Reservation Forms and accommodation details. Click to download.