Lagos Business School, Pan-Atlantic University
January 8, 2020 – January 11, 2020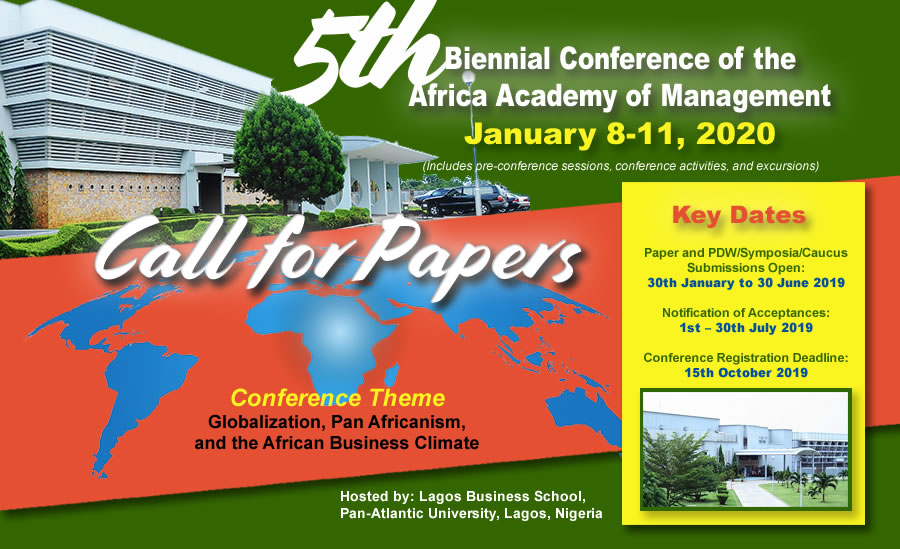 We are pleased to announce that the fifth biennial conference of the African Academy of Management (AFAM) will take place from January 8-11, 2020 at Lagos Business School in Lagos, Nigeria. Our conference theme is designed to look at two aspects of the 'new' emerging business environment in Africa: 1) how external actors invest, relocate, and interact with indigenous African businesses and 2) how internal African businesses move across national boundaries and explore the Pan-African environment.
Conference Theme: Globalization, Pan Africanism, and the African Business Climate
Our conference theme is meant to encourage dialogue and debate regarding one of the most pressing issues that face the continent: As African economies grow, how are resources and business opportunities best marshalled and shepherded for the benefit of Africans in a way that facilitates sustainability and access to better life for citizens? What is the role of foreign direct investment, regional trade associations, and regulatory frameworks in ensuring and maximizing resources? How can the public and not-for-profit 'third sector' help to manage and to benefit from the inevitable challenges and changes? What are the responsibilities of investors, both those in Africa and those from outside Africa, in ensuring a sustainable and healthy environmental footprint in African businesses and economies?
Our location, Lagos, Nigeria, is ideal for exploring these issues. Nigeria is not only the largest economy in Africa but also the largest oil producer in Africa, the 11th largest in the world, and has a long history of FDI. As new oil deposits continue to be discovered throughout the continent, we may ask ourselves if oil (and the other critical resources so prevalent in Africa) are a cure or a curse? How might African countries rich in natural resources best manage this wealth for the benefit of their populations?
Prospective contributors are encouraged to submit conceptual or empirical papers, symposia and professional development workshops that explore the issues relevant to the conference theme and beyond. Topics relevant to the theme include, but are not limited to the following:
How can foreign direct investment be best managed in the African context?
How can African regional actors compete with international firms?
How can local firms be encouraged to globalize, and/or expand across the African continent?
What frameworks might be employed to manage natural resources on the continent?
What formal institutional factors facilitate or impede the creation of African organizations that can compete in the global economy?
How might resources be better managed for the benefit of Africans?
How might entrepreneurship be promoted to encourage indigenous resource development?
What are effective incentives and frameworks for CSR and social entrepreneurship?
What strategies should African businesses implement in their local markets to enable them to prosper both at home and in the competitive global environment?
What factors could facilitate (or impede) the emergence of African multinationals?
What is the role of African indigenous knowledge systems in contributing to management theory development?
To what extent can informal institutional factors, such as culture, ubuntu, and the role of the extended family system facilitate or impede the creation of entrepreneurial businesses in Africa?
What human resources management practices can facilitate the creation of high-performing organizations?
SPONSORS

Announcements
Conference: Lagos 2020 - Early Registration Deadline Extended

As you know registration is now open. We encourage you to take advantage of the early registration which has a relatively lower conference fee than the regular registration.  The deadline for the early registration has been extended to October 11, 2019. Thank you very much and we hope you take advantage of the opportunity.
Posted: 2019-10-07
More...

Conference: Submission Deadline Extended

Conference Submission deadline has been extended to give chance to those who could not submit or had difficulties submitting. The new submission deadline is June 30, 2019.
Posted: 2019-06-04
More...
Conference Information